Visit Sandra Horning's BOOK REVIEWS @ BeTwinned
by Sandra Horning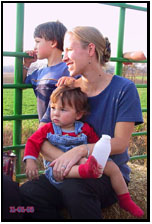 Sandy, Eoin and Gavin
Photo courtesy of Christian Malinowski
I was born and grew up near Reading, Pennsylvania. I went to Mt. Penn High School, a small public high school. After graduating from Mt. Penn, I attended Bryn Mawr College outside of Philadelphia, where I majored in Sociology and minored in Russian.
My love of children's books was evident even in college when I wrote a sociology paper and gave a presentation on cultural hegemony as reflected in the Berenstain Bear books, which my little sister adored at the time. Although my professor agreed to the topic, he looked a bit perplexed. I spent hours in the children's room of the public library analyzing each Berenstain Bear book.
After my presentation, my professor came up to me and said not only had I done a great job, but he also enjoyed my reading of The Berenstain Bears Go Out for the Team to my fellow sociology majors.
After college, I spent a year working in the children's section at a Borders Bookstore, where my interest in and knowledge of children's books grew. Still, I never thought I would write a children's book and my jobs were taking me in the direction of social research and computer work, away from writing and children's books.
Then a few years later, my husband's studies took us to County Galway, Ireland, where I kept a daily journal and wrote letters and e-mails filled with stories of my Irish adventures. My friends loved my stories and encouraged me to keep writing. Finally, I realized how much I enjoyed writing and that it was what I should have been doing all along.
I began writing picture books in Ireland, but I didn't seriously begin submitting them until a few years later, after my son was born. While my son was still a baby I took a correspondence class at the Institute of Children's Literature, which helped me to write more regularly and taught me how to properly submit manuscripts. Upon completing this course, inspiration for my first published picture book, The Giant Hug, struck.
At the time, my father still worked at the Reading, PA post office, where he had worked my entire life. When he was on the verge of retiring, he was diagnosed with a serious disease that caused him to have difficulty walking. My older son was two years old then and a big fighter of naptime.
One day, while preoccupied with thoughts of my father, I was trying to get my son to sleep and he, of course, wasn't interested. When I started to get visibly frustrated, my son leaned over, opened his arms as wide as he possibly could and gave me a giant hug.
The hug melted all of my frustrations and fears in an instant. I thought if I could just package that hug and send it to my dad and mom, it would help them through their struggles. Thus, the idea for The Giant Hug was born.
I don't often get to sit down and write when an idea strikes me, instead, I usually take notes and try to recreate the idea later. But The Giant Hug was different, I started scribbling away right in the moment of the idea (my son playing, not sleeping, at my side) and the story poured out of me. It was a defining moment in my life and in my confidence as a writer. I wanted to express how a child's hug is priceless and can instantly change your whole outlook for the better.
Children's books have always been my true love and now that I have two young children, reading children's books fits right in with my life. Every week we head to the library and check out a huge stack. My older son will look at the pile and say, "Who are those books for? I didn't pick them out." I answer, "They're for me. I like to read these books too!"
And now, thanks to BeTwinned, I get to review some of these books every few weeks. I'll also make a point of reviewing some books with twins or multiples in them.
As we all know, the quality of children's books on the shelves varies greatly, with some publishers focused more on the sales, rather than the quality of the illustrations or text. I'll do my best to focus on some of the lesser-known, quality books out there. Of course, many of them will be my own or my children's personal favorites. If you have any you'd like to share with me to review, please do let me know.