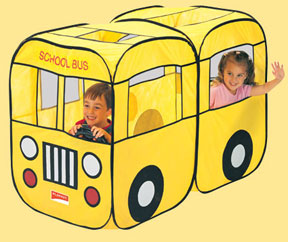 Photo from Playhut.com
by Jane Day Rasmussen
Name: Twist 'N Fold Big Yellow Bus
Manufacturer: Playhut
Category: Pretend Play
Manufacturer's Suggested Age Range: 3 years and up
Our tested age range: 1 year – 4 years
Learning Components: Creative Play
Price Value (on a scale of 1 to 4 honeys):

We inherited Playhut's Big Yellow Bus when my friend's son outgrew it. It became an instant favorite in our house!
The bus includes a blow-up steering wheel, three side windows, a roll-up flap door, two sunroofs and a tunnel flap for crawl-through play. This toy really inspired imaginative play as we'd go around and pick up our passengers for many different destinations.

The nylon bus sets up instantly with patented EZ Twist Technology – just take it out of the bag, and it literally snaps into place. It is lightweight & portable and can be packed away as easily as it comes out. (It comes with a storage bag; getting it back in takes a little practice.)
Once open, it is plenty roomy: 50 inches tall, 36 inches long, and 25 inches wide – we've fit two grandmas, one child and a kitty cat in ours! The bus can be connected to other Playhut Collect 'N Connect structures – if you have the room in your house. You can spot clean the bus if necessary and allow to air dry.
I bought this for my twin nieces because the dual-area allows for one to drive and the other to ride!
The Big Yellow Bus is a 1999 Parents' Choice® Approved winner. It retails for about $30 and is worth the money – the toy is virtually indestructible and will provide entertainment for the whole family for a long time. Visit www.playhut.com for all of their other tent contraptions.
Safety Information (from Amazon.com)
"This product uses a spring steel loop that will quickly pop open. Caution must be used in the handling this product. Small children should never be allowed to fold or unfold this product without adult supervision. Discard if steel loop is broken or if this product is damaged. It is not fireproof. The fabric will burn if left in continuous contact with any flame source. Keep all flame and heat sources away from this product. The application of any foreign substance to this product may render the flame resistant properties ineffective. Please thoroughly read instruction sheet before using this product."