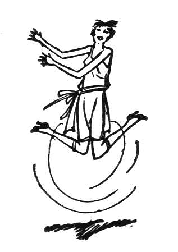 A difficult part of life after cancer treatment has been getting used to my new body. The truth is that I'm not completely comfortable writing about this subject right now, so I am only going to outline the basics here.
I do feel comfortable saying that it's weird and complicated and that my body is just, well, different. I have weird aches and pains that I don't like to talk about much. What makes them weird is simply that they're different from my pre-cancer body, which was also just a younger body.
It makes me think of one of my favorite folk tales, an Irish tale about the selchie, the seal maiden. In the luminous musical version we listen to with my daughters, there is a part when the seal is stranded on the sand and loses her seal skin. Then she turns into a human girl. She tries to swim back out to sea to retrieve her seal skin, but she cannot because she does not know how to work her new body.
Of course, the challenge is not only because I feel as though I have a new body. The real challenge is that every one of my new aches and pains feels like it must be cancer. It's very difficult to deal with these aches and pains without worrying.
But I do try.
I went to dance class tonight (I take modern dance classes) and was so happy to see someone who hasn't been to classes in years. She has been facing some very complicated health issues and only now has returned to class. I could tell that she was feeling frustrated during class, but she looked as lovely as she ever did, with gorgeous dancer's fingers and hands, very natural and graceful.
Watching my friend make her way through class inspired me. And my teacher offered me spot-on corrections to get me through.
There are moments, during dance class, when I am happily lost in the movements and the music, and for a few seconds, I never had cancer. It's thrilling. And then I return to myself, my new body, my new normal. And that's OK too. It really is.