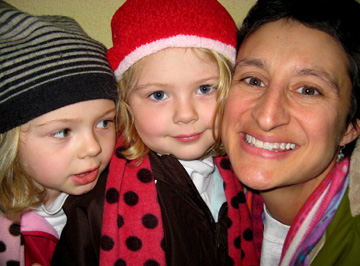 My daughters' names are of really special meaning to my husband and me.  Dinah's name came from Louis Armstrong singing "Dinah, is there anyone finah, from the state of Carolinah, etc."  There is also a much longer family story about Dinah's name, but I'll get into that another day.
And Djuna's name came from a romantic escape my husband and I made to New York City on the day in December 1996 when the Woody Allen movie "Everyone Says I Love You" came out.  Natasha Lyonne plays the spunky lead character Djuna, and we fell in love with her, the name, the movie, the soundtrack, the day, the memory, everything.
So, you can imagine how I felt when, last night at the dinner table, my 5-year-old daughters announced to me that they hate their names and that they want different names.
The names they want?
Djuna wants to be called Crystal.
And Dinah wants to be called Sparkles.
Not only do we have to call them by these new names, they informed us, but we also have to tell everyone to call them by these names.
So, you've all been told.  Crystal and Sparkles, meet the internets.  Internets, meet Crystal and Sparkles.

Sparkles and Crystal, both California girls, examine snow from the sled ride at our local Christmas street fair.