Having a couple of Play-Doh fans for kids has meant promises to make cookies, the kind where you roll out the dough and use cookie cutters.  The kind I've never made before.  The kind everyone knows is a mess!
To boot, I need to make them gluten-free because one of my daughters has a gluten intolerance.
I looked around for a gluten-free sugar cookie mix, but I haven't been able to find one.  So, I went to the fabulous Gluten-Free Girl blog and found her roll-out sugar cookie recipe and adapted it.  (Adapted it?!  I can't even believe that I adapted a recipe.  Who am I?  Who have I become? But I did it.  We basically succeeded with our cookies, but what I *really* did was inadvertently discover a pretty good recipe for gluten-free shortbread.  More on that in a minute.  First, the cute pictures.)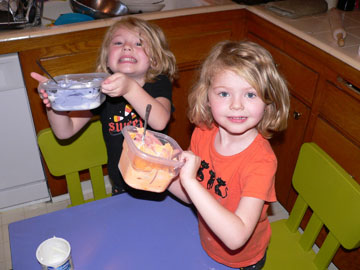 Mixing Halloween-colored frosting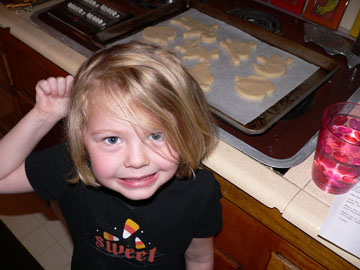 Here are some cookies, all rolled out, ready to bake!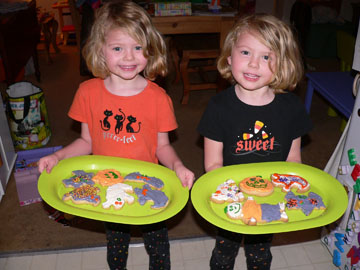 We did it!
I originally thought that maybe we'd share these cookies with some of my friends at work.  But, after a bona fide licking party: licking fingers, licking knives, even licking the container holding the sugar sprinkles … once I even caught Djuna rolling the rolling pin uuuuppp and dowwwnnnn her clothes.  There were some sneezes and coughs thrown in for extra flavor.
So I decided, maybe I'd better not share the wealth this time.  Everyone will thank me for it.
The recipe I adapted from Gluten-Free Girl came out delicious and flaky, just like shortbread, really.  But it was hard to frost. The pumpkin-shaped cookies fared well, but anything with arms or legs, like the ghosts and cats, suffered casualties — multiple appendage loss, to be exact.  The cookies were just too delicate.
I followed Shauna Ahern's recipe amounts exactly (note: in the comments section of Shauna's recipe, Shauna added a note about not beating the shortening too much).
I used Whole Foods' 365 Gluten Free All Purpose Baking Mix (it already has thickeners in it, so I didn't add xanthan gum … but I might reconsider adding some next time).  Also, instead of 1/2 lb. of margarine and 1/2 lb. of butter, I used 1 lb. of Plugra style butter because I read somewhere or other that there is more fat in this kind of butter, and I thought it might help strengthen the dough.  I think this was a mistake from the sugar cookie point of view, but if you want gluten-free shortbread, this is the way to do it.
But I'm proud of myself for adapting a recipe — it's probably the most daring adaptation I've ever tried, except for that time that my friend Allison and I tried to make cookies without a recipe when we were 10.  Of course, that was at Grandma's house, where you could get away with experiments like that.
After our Halloween cookie adventure, we were exhausted, but the project was a blast, and I can't wait to do it again with a new adaptation of the recipe and Thanksgiving-shaped cookie cutters!
P.S. I recommend listening to Jack Johnson's soundtrack for the movie Curious George as you frost.  Lovely.